Fermilab Shutdown Report
Low energy Low Level RF upgrade – ~ 5% complete
H- Vacuum upgrade – 50% complete
Electrical Work:
480/120V connection to the racks at BWT complete
Cable pull progressing well (~ 45% complete)
Water work:
LCW water work in the Booster West Gallery
Booster West Gallery isolated from CUB
All RF stations have been removed out the way
Prep work and set up for contractors almost complete
Tunnel water work had a great start and is going well
Replacing black tubing with Kynar (~60% complete)
BE AWARE:
4" and 6" copper pipe are staged in the gallery.
Corrector Installation:
Disassemble prototype from L4 and shipped back to MTF for tests
4 fully assembled magnets are ready for installation
One of them has been installed at L19
Today's plan is to install another one at L17
Next week:
Finish the cable pull
Contractors will start installation of the 4" and 6" pipe. There will be a lot of activity with parts in the hallway.
Start installing the filtration system
Align both correctors and continue prepping other location in preparation for installation.
Mechanical
Leak Check (4)

Finished checking D/A & A40

D:ISEP Shielding
Ion Chamber removal
Deb DCCT motorized stand
D:EKIK ceramic tube
AP2 Water Hose Replacement
Leaking LQA

Disconnected; as-found survey

Replace leaking Debuncher Sextuple
Cryo
Valve Stem replaced
Leak Check (2)
LN2 transfer line maintenance
Target Station
Water Systems (2)
Temperature Monitoring (2)
Target Rotation
Storage
SEM Module
LVDTs
Sample Retrieval
Lens motion
Air Exhaust Stack
10mm-2 into transformer
10mm-3 into transformer
Lens replacement
Cooling Systems
Deb 3&4 Trans Notch Filters
Deb Double Notch Filters
Stacktail 4-8GHz Equalizer
TWT balance & trip points
Stacktail Filter 3 cable change
Electrical (Pbar & EE Support)
Shunt Move
Shunt Repairs (6)
PS Maintenance
Lens SCRs
Regulation Electronics
Ion Pump maintenance
Deb Shunt re-arrangement
Other
Interlocks/Safety System (3)
Repair cathodic protection
Dirt holes under buildings
DCCT calibration
Baking System checkout
RF & TWT filters maintenance
Lights Checkout
Acc BPM repairs
Activation Survey

Finished AP1 & Accumulator

Inductance checkout
PM ODH Fans & Sumps
Tunnel Wireless
Install Leak Detector
SEM maintenance
Began installation of M30 collimator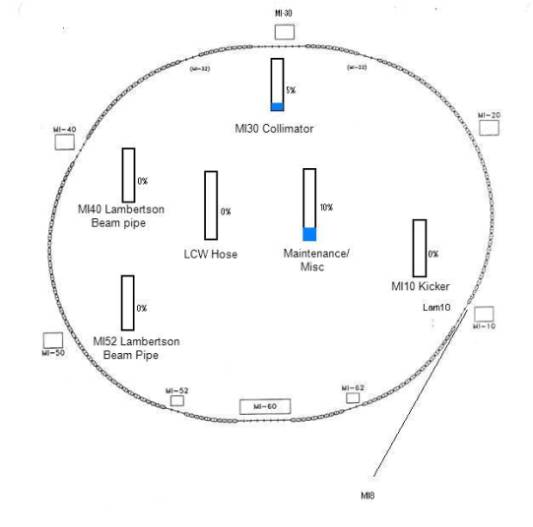 Miscellaneous maintenance
Open since Tuesday (8/7)

Ron did not find anything abnormal
Usual amount of chain dust; no shaft dust
Found only two needles (less efficient in high voltage regulation)
Needles will be replaced
Measured GVM face to terminal shell distance.
Removal black poly dust
Chain: clean or replace?
New DCCT section installed, leak checked and under vacuum since 9 AM Wednesday.
V303 move planned; move qt303 DS and move V303 to where qt303 was.
Trombone additional quadrupoles installation issues
Under way starting at 601
Need to move MI buss support at 604
MI RF PA's nearby
Need to talk to HLRF about stations 14 and 18
Things To Come
E1 and E0 warm up and leak repair
C0 and A 17 vacuum work
F17 kicker replacement
Dehumidifier work
Vacuum pump maintenance
Cryo maintenance
Bad stand replacement?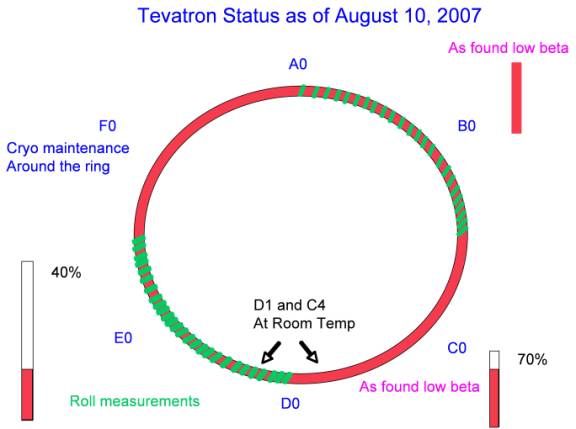 They are moving SWICs and two quadrupole magnets
MI-65 is considered a construction zone. You need steel-toed shoes, long pants, and a hard hat to enter. There is new crane electronics.
Reverse Horn Polarity

Take wipes.
Reverse polarity of horn power supply.
Test horn.

Check Corrosion Tabs at 25m Absorber

Unstack 9 blocks from 25m absorber.
Retrieve corrosion tabs.
Restack blocks.
Seal cover.

Dry out horn (09Aug07)
Check Leakage Current on Ion Pumps
Power Supply Maintenance
Toroid Work
MTA Beamline Installation
Linac shutdown does not start until next week

However we had the chance to access the Linac enclosure 3 days this week and complete some critical tasks

Alignment

Finished setting up controls
Beam line stake out is complete

Removal of the "gravel" ramp is complete
Varieties of small tours with contractors and task managers to assess jobs and confirmation of drawings were complete

MTA beam line installation is scheduled to start its tunnel activities on Tuesday, August 14th

Equipment readiness

All magnets are staged at IB2, on their stands, ready for installation
Ship to Linac parking lot next Tuesday, August 14th

Next Week:

150 ton mobile crane will be located at south of Linac parking lot for ~ 2 ½ weeks, starting August 14th

This is for the removal of the shielding of the MTA hatch and installation of the beam line.

The area will also be used as staging area for the needed additional shielding and temporary storage of the magnets and components that will be installed in the tunnel

The components are scheduled to be showing up to the area on Monday, August 13th

As a result, about 20 parking spaces will be used
Alignment has conducted as found surveys. They will be opening up their detector.
Alignment has conducted as found surveys. They are conducting system work.
Alignment
Alignment work has begun
Mechanical
Janitorial work in the tunnels has begun
Shutdown started Sunday morning with fast warm-ups of C4 and D1 magnet strings to room temperature.

D1 ODH event occurred when Tevatron Cryogenic Transfer Line LHe supply valve EVSH didn't properly seal thus venting helium into FRIG bldg; resolved by closing valve with auxiliary control box.

Full Tevatron warm-up to LN2 temperature was started Sunday evening after KRSS power outages.

90% of the helium inventory recovered into CHL LHe Dewars and Tank Farm.
Tevatron Cryogenic Transfer Line vacuum problems at F2-F3, also at various Pbar components/transfer lines; all vacuums pumped down. Tunnel magnet cryostat vacuum problems being addressed by MSD.
Power outage of MSS on Monday morning uneventful.
Cryo Operations
3 FRIG Mycom compressors (plus DZero) running with helium pre-cooled to LN2 temperature flowing through magnet strings
CHL helium inventory management system operating (Tank Farm, Helium Purifier, A0 GHe Recovery)
CHL Nitrogen Reliquefier plant off and LN2 supply dependent on vendor deliveries to CHL LN2 Dewar tanks
Just-in-time shutdown due to CHL feeder 38 failure during the night.
FRIG Maintenance
7 out of 13 wet expander flywheels have been replaced
Wet expander overhauls of cold ends have started
CDF BA#1 compressor unit is being replaced (failed last month)
Various vacuum, instrumentation, and controls problems being worked on.
CHL Maintenance
Helium Coldbox-2 was cooled down successfully for readiness testing
Coldbox-1

Being warmed up to room temperature, as is Coldbox-2
Charcoal Adsorbers being set up for high temperature regeneration

Nitrogen Reliquefier plant maintenance in progress:

Marley Cooling Tower cleanup/overhaul,
Rotoflow compressor after-cooler heat exchanger tube bundle being replaced

Various facility maintenance to commence next week once CHL operations shiftwork ceases this Friday.
Controls
This Week
Recovery from Power Outages
Networks, CAMAC Links, Front ends, etc.
General Maintenance
CAMAC Front End SLD Updates Started
Tevatron Copper BP/ABT link decommissioned
Tevatron Copper MDAT link decommissioned
Main Injector C200 Updates completed
Next Week
Saturday 8/11

AD Server Updates; loss of access to individual servers as updated. Web access interruptions.

Monday 8/13

Database Table Update; no DABBEL access ~2hr.

Tuesday 8/14

MAC Room & AD Computer Room UPS Maintenance
Network Switch IOS Updates

Wednesday 8/15

Network Switch IOS Updates
JAVA Engine Restarts/Updates

Thursday 8/16

Network Switch IOS Updates
Safety
Several safety concerns and suggestions reported this week.
Numerous requests for PPE, LOTO locks, tags, and job lock boxes

Baseball style bump caps are available from the ESH Department for head protection in non-construction areas.

MI-65 has been posted as a construction area

Hard hats, long pants, and short sleeve shirt are necessary for entering the building or accessing the Pre-Target and Target Hall enclosures.

ALARA job estimates are currently coming in according to plans.
Utilize Time, Distance, and Shielding to minimize exposure.
Task Managers and Crew Leaders are reminded to turn in weekly dosimeter reports to the ESH Department on Monday for the this week.
A successful shutdown is getting our work done safely.
No Report
---
More Information
For Tevatron luminosity charts and the current status of Fermilab's accelerators and detectors (live!), please go to Fermilab Now.
Comments and Suggestions
What do you think about the Accelerator Updates? Please send comments and suggestions to: accelupdates@fnal.gov.