Fermilab Shutdown Report
8/17/07 – 8/24/07
All work on Schedule

LLRF Upgrade
Electrical Work:
Cable pull 1000% complete
Water work:
LCW water work in the Booster West Gallery

Area continues to be a working area
6" copper pipe successfully pressure tested and mounted on the wall
4" copper pipe and RF manifold upgrade progressing well
Next week: Continue with the installation

Tunnel water work:

6 filter canisters installed in the tunnel (L2, L4, L11, L14, L16, L22)
Plans continue to be developed for Booster de-oxy system
Next week: Connect up water to the correctors

Continue with the filtration system installation (piping)

CUB

VFD test occurred most of the week (1 pump only)

Corrector installation

Number of new correctors in the tunnel: 10

L19, L17, L21, L23, L15, L9, L11, L13, L5, L7
They are all fully surveyed and vacuum connected

Booster vacuum slowly recovering
Next week:

Continue with corrector installation
Continue monitoring vacuum
Preparatory work needs to be completed for the remainder locations (critical ones…L1 and L3).

Additional Activities

FESS

Burned out lights were replaced in the tunnel
Sump pump at L2 was replaced
Engineers evaluate tunnel structure

Cracks developed in the ceiling at S5 and P16 alcove

Sinkhole is still a sink hole…

Lots of effort to understand the discharge pattern…

Power Outage (Feeder 41) schedule for Aug 25 th

Booster will be switched to back feed from CUB this afternoon.
Sumps and lights will be on during the outage.

RF maintenance work started.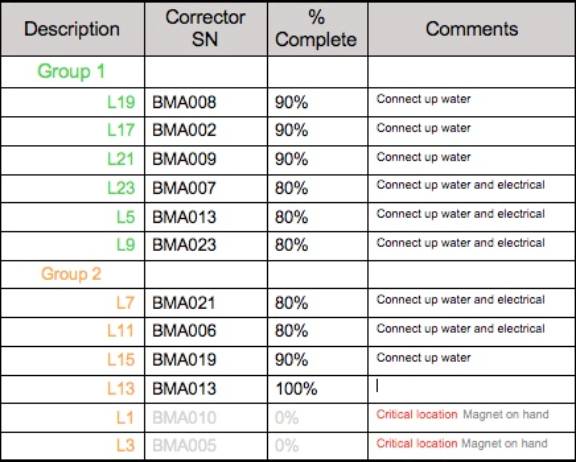 Mechanical
Leak Check (4)

Finished checking D/A, A40, A30

D:ISEP Shielding

Stand set; started stacking Deb DCCT motorized stand
Ion Chamber removal
Deb DCCT motorized stand
D:EKIK ceramic tube
AP2 Water Hose Replacement
Leaking LQA
Replaced leaking Deb Sextuple
SMA water leak
4 water leaks to fix
Cryo

Valve Stem replace
Leak Check (1 of 2)
LN2 transfer line maintenance
Target Station
Water Systems (2)
Temperature Monitoring (2)
Target Rotation

Removed from vault; see photo

Storage
SEM Module

Removed from vault; see photo

LVDTs
Sample Retrieval
Lens motion
Air Exhaust Stack
10mm-2 into transformer
10mm-3 into transformer
prepping
Lens replacement
Pictures of PMAG
Cooling Systems
Deb 3&4 Trans Notch Filters
Deb Double Notch Filters
Core 4-8GHz Equalizer
TWT balance & trip points
Stacktail Filter 3 cable change
Electrical (Pbar & EE Support)
Shunt Move
Shunt Repairs (6)
PS Maintenance
Lens SCRs
Regulation Electronics
Ion Pump maintenance
Deb Shunt re-arrangement
Other
Interlocks/Safety System (3)
Repair cathodic protection
Dirt holes under buildings

Dripping from tunnel ceiling

DCCT calibration
Baking System checkout
RF & TWT filters maintenance
Lights Checkout
Acc BPM repairs
Activation Survey

Finished AP1, Acc, Deb, AP2

Inductance checkout
PM ODH Fans & Sumps
Tunnel Wireless
Install Leak Detector
SEM maintenance
Clogged sump line – Transport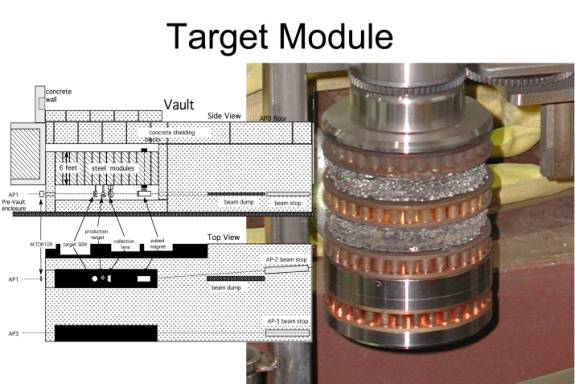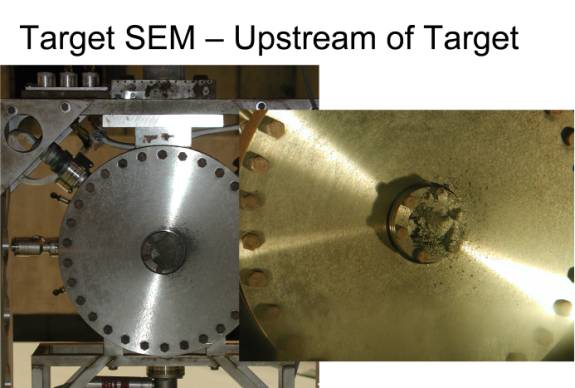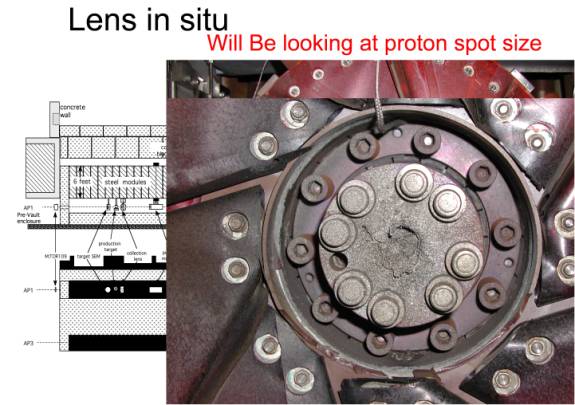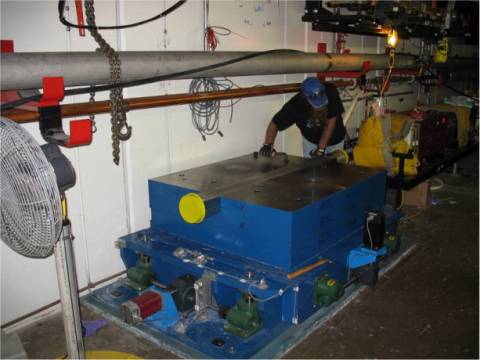 Pictures of collimator build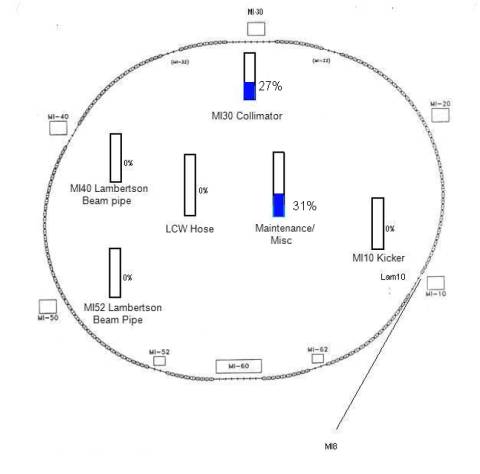 Miscellaneous maintenance
Finished or underway

New DCCT section installed, leak checked and under vacuum since Wednesday last week; pumping down.
DCCT section has been aligned
V303 moved, need to make connection and complete shielding
H308 moved; need to make connection and complete shielding
Need to check ALL LEP dipole positioning wrt. beampipe
STC tank 7 leak check underway
Trombone additional quadrupoles installation issues

HLRF cooperation
Finished: 601,602,606,607
Stands ready: 603,604,608
Moved MI buss support at 605
Wait on 609 location (radiation)

Added support to old DCCT
Bulk supply upgrade (on-going)
DCCT cable connected

On the list

Magnet moves (305, 307) and survey alignment
Elevation survey before and after collimator installation
800 transfer line vacuum work
Vacuum maintenance
Kicker repair; timing verification
TOR330 repair
BPM calibration
Diagnostics maintenance
MI-21 SA camera/TV repair
Laser link vacuum maintenance
Additional quad cabling and field check
Tevatron status as of August 24
Continuing with maintenance work.
Completed water sampling August 20th
Drain cleaning presently taking place in the pre target
Installed new target pile air system humidity sensors
Changed Pre & HEPA filters in target pile Air System
Installed protective roof covers on strip line cage
Re-started Horn 2 LCW and started leak investigation
Target Pile Dehumidification Installation Project

Completed installation of PVC condensate line in shaft
Completed installation of electrical conduit in shaft
Continue with chilled water pipe installation @ bottom of shaft
Completed layout of 4" chilled water pipe in Upper Labyrinth
Started installation of 4" chilled water pipe hangers in Target Hall
Started planning & layout for duct work to Munter dehumidifiers
There was no work completed last week.
Reverse Horn Polarity

Take wipes.
Reverse polarity of horn power supply.
Test horn.

Check Corrosion Tabs at 25m Absorber Next Week

Unstack 9 blocks from 25m absorber.
Retrieve corrosion tabs.
Restack blocks.
Seal cover.

Change RAW DI Bottle (50%)
Dry out horn (09Aug07)
Check Leakage Current on Ion Pumps
Power Supply Maintenance
Toroid Work
MTA Beamline Installation
Tunnel activities

Janitors cleaned up the garage area
Contractors started working on the cable tray installation
Moved an existing turbo cart out of the way

Some beam line components have to be installed in that area

Shielding underneath hatch area

Crane showed up last Friday (Aug 17 th)

Shielding blocks were completely removed by early Monday morning (1.5 days)
Crane was heavily used for:

Lift 3 barrels full of concrete (old ramp)
Lowering auxiliary equipment to aid the magnet installation
Lowering all magnets in the tunnel
Lowering all the LCW pipes, cable trays
Lowering most of the big cable spools

Next week:

Crane/Iron Workers will be moved to another job site.

Expect to return Tuesday (08/28)
Parking lot will remain roped off during this time.

Leveling the floor will occur during this time.

Electrical Work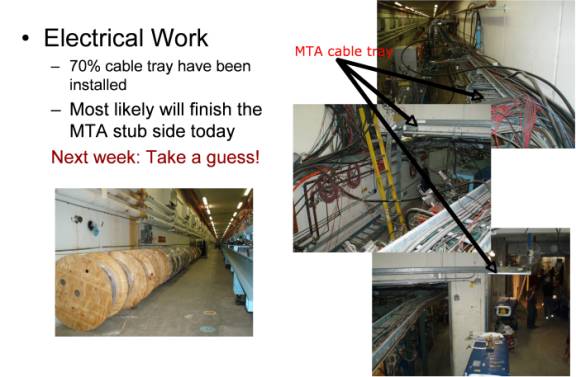 Alignment

Completed the network and stake out the MTA stub area
Assisted on measurements for the core drill
Next week:

Check magnets stationing and elevation

Core Drill

Core drill of 3 blocks was successful performed yesterday

Some other cuts were also done in order to get the right amount of shielding blocks for the new wall.

Magnet Installation

Being performed by Iron Workers

40% magnets in place


Remaining will be stationed today

Next week: proceed with spool pieces after elements have been surveyed.

LCW work

Pipe fitters start their activities today!

1 day ahead of schedule! Not too bad for the MTA first week of tunnel activities.
Plugs bores sealed, dewpoint at -10 °C.
Open up silicon to the outside with it cold
ISL cooling repair commenced yesterday
Supply and return lines cut and straightened
Short straight shot to repair area with borescope and glue tube
Storms: emergency radio didn't seem to work, some flooding in the building
Toroid water leak repaired.
Alignment
Completed Jobs
Recycler Task Manager: Oshinowo

5527 Optically align Recycler DCCT after installation. Date: 8/13/2007 Complete

Tevatron Task Manager: Bocean

5494 As found low beta quads and separators at B0 Date: 8/06/2007- 8/08/2007 Complete
5495 As found low beta quads and separators at D0. Date: 8/09/2007- 8/14/2007 Complete
5498 Measure rolls on 111 dipoles and quads in Tevatron (48) Complete
Un roll D16-1 quad when D-1 is warmed.(As Found) Date: 8/13/2007 Complete
5591 As Founds of the Roman pots at D0 4 of 6 Date: 8/13/2007 85% Complete
A0 dump as found (no request for this job) Date: 8/23/2007 Complete

Booster Task Manager: Oshinowo

5534 Align 24 Booster Corrector Magnets.( Long 19 Long 17 ) Date: 8/13/2007 Complete
5534 Align 24 Booster Corrector Magnets ( Long 21 Long 23 ) Date: 8/14/2007 Complete
5534 Align 24 Booster Corrector Magnets ( Long13 Long15 ) Date: 8/20/2007 Complete
5534 Align 24 Booster Corrector Magnets ( Long 11 Long 9 ) Date: 8/21/2007 Complete
5534 Align 24 Booster Corrector Magnets ( Long 7 Long 5 ) Date: 8/23/2007 Complete

Main Injector Task Manager: Oshinowo

5563 AS found survey of Quadrupoles at 400, 402, 404 and the three Lambertson. Date: 8/13/2007- 8/15/2007 Complete
5554 307, 308 Collimators: Base plate survey Date: 8/16/2007 Complete
5554 307, 308 Collimators: Set travel and limit switches Date: 8/22/2007 Complete
5596 Magnet 614 had to be moved please realign. Date: 8/23/2007 Complete

CMS Task Manager: Oshinowo Field Crew: O'Boyle.

5516 Survey the CMS F-pixel Half cylinder +Z2 in the Lab C Date: 8/09/2007 Complete

D0 Task Manager: Oshinowo

Stickmike survey of Muon system prior to opening of detector. This will include both CFs and EFs. Date: 8/06/2007 Complete
5524 VStar or Laser Tracker survey of North/South EF pedestals with respect to the sidewalk monuments. Date: 8/07/2007 Complete
5592 Elevation run in D0 before machine is opened. Date: 8/06/2007 Complete

Linac Task Manager: Oshinowo

5468 Stake out the MuCool beamline component locations in the Linac and MuCool Test Area (MTA). Date: 8/08/2007 Complete

P-Bar Task Manager: Oshinowo

A4Q10 (LQA in Accumulator) has a water leak. An "as found" Date: 8/09/2007 Complete
5595 An Accumulator multipole magnet (SMA) has developed an internal Date: 8/23/2007 Complete

Nova Task Manager: Oshinowo
Next week's schedule of work
Tevatron Task Manager: Bocean Field Crew: Bradford, Adkins, J Wilson.

5498 Measure rolls on 43 dipoles and quads in Tevatron. These are magnets that cannot be measured with roll fixture. Date: 8/14/2007- 8/27/2007
5598 A0 dump as found (late request for this job) Date: 8/24/2007
5591 As Founds of the Roman pots at D0 4 of 6. Date: 8/24/2007
5506 As found crystal collimator at E0. Date: 8/27/2007
As found TEL1 in transfer hall. Date: 8/27/2007
As found TEL2 in transfer hall. Date: 8/27/2007
5594 As found Schottkies, Separators A17 straight. Date: 8/24/2007 Manager: Kyle
Elevation run A-E sectors Complete Date: 8/14/2007- 8/28/2007

Booster Task Manager: Oshinowo

5534 Align 24 Booster Corrector Magnets Date: 8/27/2007

Main Injector Task Manager: Oshinowo

5554 4 collimators in the Main Injector at the 301, 303, 307, and 308 locations. Date: 8/24/2007-8/30/2007

Nova Task Manager: Oshinowo

5475- Stake out new Recycler injection line (MI10)Date: 8/27/2007
5477-Stake out new Recycler RR30 quad positions for the Nova ProjectDate: 8/29/2007
5476-Stake out new Recycler extraction line (MI30) for the Nova Project Accelerator upgrade. Date: 8/30/2007

MTA Task Manager: Oshinowo

Shoot MTA shielding blocks after re-stacking them underneath the hatchway area.
5469 Rough alignment of the MuCool beam line components. Date: 8/29/2007

CDF Task Manager: Bocean Not Scheduled
ILC Task Manager: Bocean Not Scheduled
P150 Task Manager: Oshinowo Late Request

5593 We had to move several magnets and multiwires to make up the ends on the cans for vacuum connections. They are as follows: The multiwire cans at 708 and 710. B2 magnets at the interface of 710 - 711 and the interfaces of 709 - 710, the serial #'s are BDM 883-1 BDM 835-1 BDM 879-1 and BDM 397-1. Date: 8/28/2007
Alignment and Metrology Home page
Mechanical
Janitorial work in the tunnels continues.
Tevatron at LN2 temperature except C4, D1, and E1 at room temperature
Tunnel magnet cryostat vacuums at A15, A25, and D35 regions are of concern.
TeV Cryogenic Transfer Line F2-F3 vacuum leak checked fine.
CDF Cryo back on TeV Cryo Compr discharge/suction headers due to pond work
Cryo Operations
3 FRIG Mycom compressor (plus DZero & CDF Cryo) running with helium precooled to LN2 temperature flowing through magnet strings.
CHL helium inventory management system operating (Tank Farm, Helium Purifier, A0 GHe Recovery) and Tank Farm has been purified; the helium losses are normal.
CHL Nitrogen Reliquefier plant off and LN2 supply dependent on vendor deliveries to CHL LN2 Dewar tanks; deliveries are fine.
FRIG Maintenance
10 out of 13 wet expander flywheels have been replaced
10 of 26 wet/dry expander overhauls of cold ends are completed
Various vacuum, instrumentation, and controls maintenance continuing
CHL Maintenance
Coldbox-1:

Charcoal Adsorber east unit regeneration at high temperature continues with cooldown starting today
LHe Subcooler control valve removed for problem diagnosis

Nitrogen Reliquefier plant maintenance in progress:

Marley Cooling Tower cleanup/overhaul almost finished
Rotoflow compressor aftercooler tube bundle being replaced
Niagara cooling tower sumps were cleaned

Various compressor and facility maintenance in progress
Controls
This Week
AD Server Updates complete
Database Table Update complete
MAC & Computer Room UPS Maintenance complete
Acc. Network Switch IOS Updates complete (120)
Computer Room Prep work for 8/18 Switch replacement
MADC II reset updates continue
CAMAC Front End SLD Updates continue
Continuing routine maintenance
JAVA Engine Restarts/Updates

Having to reinstall OS on Solaris workstations
Next Week
Saturday 8/18

Replace EOL Gigabit Network Switch with Cat6506 Chassis

No AD general networking (desktops). 2-4hrs.

Tuesday 8/21

General Network (desktop) Switch IOS Updates
VAX Clusters move to MAC Room

4 clusters, move one at a time, down 30 min/cluster
Alarms server, Fileshare, Console page access

Wednesday 8/22

General Network Switch IOS Updates
Upgrade Sup720 to Cat6509

No Accelerator Division Network. 2-4hrs.

Thursday 8/23

General Network Switch IOS Updates

Saturday 8/25

AD Web Server Updates ~2hr.

No Time Server, No Elog access, No node reboot capability
Get Requests In Now
Hardware you want to use may not be readily available

New infrastructure (links, clocks, networking) takes time

Work has to get scheduled
Casey's Pond
Experts have discovered a leaking 16" valve that needs to be replaced
Water will be bypassed through 10" valve during replacement

Pressures will drop
Experts will perform test with 10" valve before beginning work
Chillers
Chiller #3 is off for maintenance

HX3 is on as a replacement for Chiller #3
There are no back pumps during this work
Poles
12 or 13 of the 19 poles have been replaced
TeV pond silt
New intake ports have been built to minimize the silt problem
Safety
Safety System Status

Upgrade M02 - M05 Enclosure Interlocks 25%
Upgrade Main Injector PLC Code and replace PLC Batteries 35%
Replace Safety System DEC talk with ATT Natural Voices 15%
Linux kernal 2.4 to 2.6 upgrade to Safety Data Acquisition System 25%
Upgrade Meson Area Oxygen Monitors 0%
Install Radiation Monitor Cables for the Muon Test Area 0%
Replace Pbar Vault Key Tree Door Latches & add status LEDs 0%
Route Key Tree release signals from MCR to Meson 0%

A successful shutdown is getting our work done safely
---
More Information
For Tevatron luminosity charts and the current status of Fermilab's accelerators and detectors (live!), please go to Fermilab Now.
Comments and Suggestions
What do you think about the Accelerator Updates? Please send comments and suggestions to: accelupdates@fnal.gov.