Fermilab Shutdown Report
9/21/07 – 9/28/07
Things Done This Week
Adjusted Drive Loop on LRF5
Installed VXI Crates in LRF2, 3 & 1
Water System Maintenance
Shutoff All Systems in Preparation for Water Maintenance and Power Outage
LRF5 Cleaning
Test Klystron Transformer Oil
Establish Baseline for HERF LLRF Calibration
Install VXI Crate in LRF4
Find Oscillation Problem in LRF4 Modulator
Repair LRF5 Modulator Weakness.
Continue LLRF Studies in LRF5
Water work:

Booster 95LCW was recovered after the scheduled CUB power outage last weekend
All BRF stations and power supplies are currently valved in

visual inspection showed no sign of leaks

Monitored the oxygen levels and pressures across the new filters in the tunnel
Filters were changed out and the correctors were valved in after the oxy levels started declining

New Booster corrector power supply burn-in started

polarity checks complete
correctors have been turned on and run test ramps overnight

full power test @ 15 Hz
magnet temperature around 110F

Additional Activities

tunnel water leaks repaired
cable penetration sealing in progress
installed new injection foils
RF maintenance is wrapping up

Next week start up plans

Proton Source startup is scheduled for October 3rd.
Coordinating final checks, walkthroughs and clean up in preparation for Oct. 3rd startup

Booster back to operational keys on Monday, Oct 1st
Secure Booster on Tuesday, Oct 2nd
Start turning components on after power outage Oct 3rd
Goal: Establish beam to Booster dump Oct 3rd

pending on MI water availability (booster dump line)
Mechanical
Finished D/A, A40, A30, AP3
D:ESEP, A30 IP fixed; AP3 Pump
D:ISEP Shielding
Ion Chamber removal
Deb DCCT motorized stand
D:EKIK ceramic tube

Aligned; Vacuum tight after leak fix

AP2 Water Hose Replacement
Leaking LQA replaced
Replaced leaking Deb Sextuple
SMA water leak; replaced
4 Leak Check (4)
water leaks to fix
A10 Obstruction Search

Components shuffled; aligning

Brace Skew Quad Coils
Target Station
Water Systems (2)
Temperature Monitoring (2)
Target Rotation
Storage
SEM Module
LVDTs
In progress
Sample Retrived
Lens motion
Air Exhaust Stack
10mm-2 into transformer

Installed into transformer

10mm-3 into transformer
Lens replacement
HiPot of PMAG
PMAG water system flush
Lens Module water system work
Power/Emergency Generator Switch
Elevator table repair
Cryo
Valve Stem replace
Leak Check (1 of 2)
LN2 transfer line maintenance
Cooling Systems
Deb 3&4 Trans Notch Filters
Deb Double Notch Filters
Core 4-8GHz Equalizer
TWT balance & trip points
Stacktail Filter 3 cable change
Electrical (Pbar & EE Support)
Shunt Move
Shunt Repairs
PS Maintenance
Lens SCRs
Regulation Electronics
Ion Pump maintenance
Deb Shunt re-arrangement
Deb Extraction kicker load adjustment
Other
Interlocks/Safety System (3)
Repair cathodic protection
Holes under buildings

Water dripping from tunnel ceiling

Contractor sealed ceiling
Await good rain storm

Await contract for filling holes

DCCT calibration
Baking System checkout
RF & TWT filters maintenance
Lights checkout & repaired
Acc BPM repairs
Activation Survey
Inductance checkout
PM ODH Fans & Sumps
Tunnel Wireless
Install AP2 Leak Detector
SEM maintenance
Clogged sump line – Transport

Berm dug; Replaced entire line; re-established berm; to be surveyed
MI52 Beam tube replacement

Started replacing upstream beam pipe

MI40 beam tube replacement

Beam tubes are replaced and aligned.
Lambertson bake out is started.

MI30 collimators

Completed vacuum connections, leak checking.
Buss and LCW moves complete. Need LCW hose.
Installation of magnetic shielding is mostly complete.
Marble and concrete masks installation is complete.
Installing and checking controls

MI Status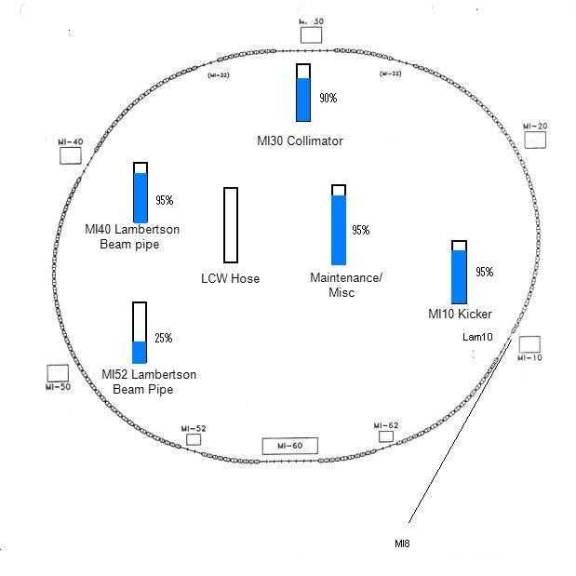 Finished or underway
New DCCT section installed, leak checked and under vacuum

DCCT section has been aligned
Beam pipes in this section (between valves) will be baked to 150 degrees C, the DCCT unit will be baked to 100 degrees C, Sept. 21st

V303 moved, connected
H308 moved, connected
STC tank 7 leak check finished

Second attempt has been made; detected air but found no external leak

Sublimated TSP's at STC's 7,8,9,10.11,12

Sublimated TSP's from 204 to 210
Trombone additional quadrupoles installation

Installation has been completed
Measured rough positions of trombone elements with respect to surveyed elements
Electrical boxes installed for 601-608
Connections started

Added support to old DCCT
Bulk supply upgrade finished
DCCT cable connected
Stochastic cooling: Photodiodes aligned
The 800 transfer line is now leak free!

MW803 seal has been replaced; leak fixed!

MW803 survey requested and has been done…(no sticker)

HP803 (large elliptical BPM) has been replaced with a standard elliptical unit

Leak free!
Survey of as-found has been done between gradient magnets

For the Recycler portion of the transfer line, there is only one large elliptical BPM is left (HP804).
Jim Fitzgerald has made response measurements for two spare Large elliptical BPM's

TOR330 repair under way (Jim/Aisha/Dallas, tunnel part is done)
BPM calibration has started (Peter Prieto), data of two houses are available
QCL cable from 301 to 309 has been re-positioned and connected
Recycler to do list
Magnet moves analysis finished; numbers ready
Elevation survey after collimator installation
Field check for new quadrupoles
LEP dipole field centering on beampipes
General vacuum maintenance
Kicker repair; timing verification
Diagnostics maintenance

FW paddles to be swapped out with new units soon
BLM for scrapers: rebuilding in progress
Schottky (1.75 GHz) system gain calibration
Schottky (21 MHz) maintenance

Laser link vacuum maintenance
Damper status (in two weeks)
Safety sign-off (Martin, Sasha)
Ecool study plan formed
End-of-shutdown checklist ready (Cons)
Recycler Start-up plan in progress (Stan)
Vacuum Issues
E12-3 found leak had to pull magnet into isle to fix. Had to repair both ends
Spool at E12-1 was replaced
After certification E19-2 failed Hi Pot
Spool at E19-1 had to be replaced
A 15 feed can has leak
If feed can leak fixed then should be able to certify house Friday
D3 He to air leak fixed
C0 bake out in progress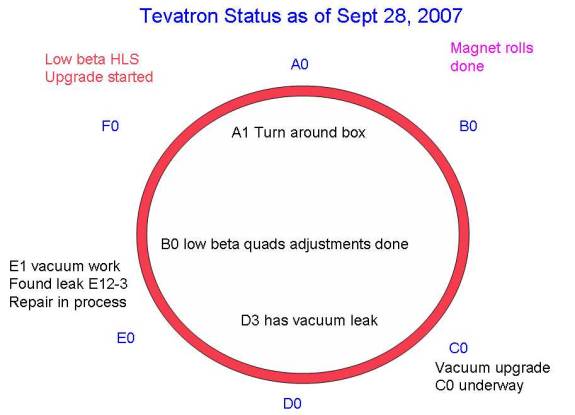 Continuing with maintenance and vacuum work
MI65 emergency power transfer switch repair
Installed new OTR foil
Repair PLC Decay Pipe temperature read back problems at Absorber Hall
Target, Horn 1 & Horn 2 maintenance and upgrades

Complete Horn 2 RAW upgrades
Install R blocks over Horn 2
Remove R blocks over Horn 1 prepare for survey
Remove Horn 1 RAW water lines
Start installation Horn 1 RAW pressure gauges
Install bypass water lines for Horn 1

Horn 2 suction line repair

Developed repair and ALARA plans
Complete initial walkthrough of repair steps at mockup in MI8
New ceramic and suction line being fabricated
Locate remainder of repair crew & continue to practice repair plan

Decay pipe window and helium line installation

Completed decay pipe window inspection
Installed 500' of 1" SS helium fill pipe absorber passageway & hall
Installed 340' of vertical SS helium pipe in MINOS shaft
Developing engineering documentation, shielding assessment addendum, ODH analysis, NuMI note, SAD

Target pile dehumidification installation project (76% Complete)

Secured work cell door and removed hardware and supports
Received & rigged dehumidifiers on to platform on east side of work cell
Installed dbl walled PVC condensate line in service building
Completed tie ins of new chilled water piping into CUB
Continue HVAC & electrical installation
Reverse Horn Polarity

Take wipes. (week of Sep. 10)
Reverse polarity of horn power supply. (week of Sep. 17)
Test horn.

Check Corrosion Tabs at 25m Absorber (27/28Aug07)
Change RAW DI Bottle (50%)
Dry out horn (09Aug07)
Check Leakage Current on Ion Pumps
Power Supply Maintenance
MuCool Beamline Installation
Electrical Work

Tunnel Work

Termination of load cables 100% complete
Termination of the instrumentation 96% complete

Vacuum instrumentation is 44% complete thanks to B. Brooker and Rosie

T&M pulled a 480VAC 3-wire cable from the Linac panel to the new MTA disconnect box (PEI room)

Alignment

Awaiting on the surveyors to rechecked the beam line components based on the latest beam sheet

Mostly corrections will be elevation related

Due to lab priorities, task was delayed a couple of days…

AMG accommodated MTA job the best they could
Currently a crew is in the Linac enclosure

LCW work 100% complete

All magnets connected to the water manifold and valved in.

Vacuum work Linac side has priority until Oct 2nd

Coming along very well…

95% spool pieces are made and dry-fit
Start immediately connecting the spool pieces after alignment
All ion pumps in the Linac side (2) are installed

Stand is delivered at the MTA side

Instrumentation group installed MW cans on the stands

Magnificent help from Instrumentation group

Oct 1st and Oct 2nd :

- Finalize the spool piece connections
Start roughing vacuum as soon as possible
Concentrate in MTA side after Oct 3rd

Mechanical installation

Beam stop assembled, tested and delivered

Outstanding group effort to meet the deadline
Awaiting the final alignment of the beam pipe thru the shielding wall and installation of the beam valve in order to proceed with the beam stop installation
Expect to be complete 9/28

Shielding installation

Cable penetration shielding is complete

Safety can lock the penetrations

To Do: shielding around the beam pipe

Awaiting for the beam pipe to be aligned
Material is available and procedure has been developed

Oct 1st and Oct 2nd: Finalize the shielding requirements
for beam operation in Linac
both endplugs closed (east last Thursday, west Monday)

silicon checkout ongoing
east ISL portcard flow since 9/18, west starting Mon.

detector elevation survey completed Tuesday
LBQ realignment Wed./Thurs.
start flowing flammable gas to wire chambers Oct. 8

start wire chamber checkout
24 hour process system tech coverage
beginning of 24 hour shift coverage tbd

other work ongoing (including trigger, DAQ)
Work continues
Alignment
Tevatron Task Manager: Bocean Field Crew: Bradford,Teafoe, Volk.

5496 Re align low beta quads and separators at B0.Date:9/28/2007 1 day 5 man crew
5610 Align spool at E19-1 when replaced.Date:9/28/2007 .5 day 3 man crew
5572 As found and re survey kicker replacement at F-17. Date:10/04/2007 .5 day 3 man crew
5497 Re align low beta quads and separators at D0. Date:10/02/2007 2 day 4 man crew

Main Injector Task Manager: Oshinowo Field Crew: Wilson, Bradford.

5554 4 collimators in the Main Injector at the 301, 303, 307, and 308 locations.
Set limited switches and final checks. Date:10/04/2007 1 day 5 man crew
Elevation Run Tie Rods & Floor points

5528 Ring Wide elevation survey. Date: 10/01/2007-Date: 10/04/2007 4 days 3 man crew

P-Bar Task Manager: Oshinowo Field Crew: Wilson, O'Boyle, Wyatt.

5488 Due to an obstacle search, the opportunity has allowed rearrangement of the devices between quads A6Q1 and A1Q1. Date: 9/29/2007- 10/01/2007 1.5 days 3 man crew

Numi Task Manager: Bocean Field Crew: Crutcher,Bradford,Wish.

5584 Target, Horn 1, Horn 2, as found also old target check. Date: 10/1/2007- 10/03/2007 3 days 3 man crew
As found the work cell door rails before removal and realign after rail re-installation. Date: 10/4/2007.5 days 3 man crew
5585 OTR - after foil is replaced ?

MTA Task Manager: Oshinowo Field Crew: Wilson, Contract Crew.

5470-Final alignment of the MuCool beamline components in the Linac and MuCool Test Area (MTA). See OSheg Oshinowo or Fernanda Garcia for details. Date:9/28/2007- Date:9/29/2007 2 day 3 man crew

Booster Task Manager:Oshinowo Field Crew: Wilson, Crutcher, Wish.

5539 Align new kickers (the new corrector will be aligned at the same time) at long 2 after installation. ?

D0 Task Manager: Oshinowo Field Crew: O'Boyle,Adkins,Wish / Wilson, J Wilson

"5523 Final Stickmic closing survey of muon system including CF, EF after detector is closed. This date is preliminary. To be confirmed in late September"

5586 V-STAR measurements of positions of south B-layer pixel counters before B-layer walls are opened and after they have been closed. One week or less

Nova

5477-Stake out new Recycler RR30 quad positions for the Nova Project
5476-Stake out new Recycler extraction line (MI30) for the Nova Project Accelerator upgrade.

Civil

Resurvey of AP 2/3 Enclosure Berm just south of Indian Rd. recently disturbed and backfilled for repair of broken sump discharge line.
Switch Yard

Recycler

5528 Magnet moves at Recycler V305 and V307.
BPM in Recycler 800 line HP803 has been replaced with leak-tight unit (serial number 1211). Please verify/align to as-found specs.
Mechanical
Work in the tunnels continues.
Tevatron at LN2 temperature except A1 and E1 at room temperature.

Pbar Debuncher Stochastic tanks and S/C Notch Filter dewar were warmed up to LN2 temperature in anticipation of system purification next week; 50 ppmN2 contamination released.
Tunnel magnet cryostat vacuums at A25 and D35 regions are still of concern; D35 air-vacuum leak found, fixed, and in process of certification by AD/MSD.
3 FRIG Mycom comprs (plus CDF & DZero) running with helium precooled to LN2 temperature flowing through magnet strings.

CHL helium inventory management system operating on clean Helium Tank Farm, though A0 GHe Recovery being vented until Mobile Purifier is back online. CHL Main Helium Purifier was derimed, cooled down, and put back online to Screw Comprs. CHL Mobile Helium Purifier was taken offline, derimed at room temperature, and will be cooled down back to service today.
CHL Nitrogen Reliquefier (NRL) plant off and LN2 supply dependent on vendor deliveries to CHL LN2 dewar tanks; deliveries are fine. NRL IR Booster compr startup problems being addressed; starter fixed but oiler problems exist.
CHL 24/7 operations shiftwork resumes Monday Oct. 1.
FRIG Maintenance in progress

13 of 13 wet expander flywheels have been replaced.
26 of 26 wet/dry expander overhauls of cold ends are completed (as well support for CDF & DZero expanders).
Various vacuum, instrumentation, and controls maintenance continuing.
Mycom compr startup checkout completed with 28/31 available.

CHL Maintenance in progress

Coldbox-1:

Vacuum systems being restarted.
System purification being started.

NRL plant:

Subsystems startups in progress.

Various compr and facility maintenance in progress
Controls
Recovered from Weekend System Outages

UPS Shutdown Multicast Testing

Applications and Device Database Updates – Complete

SDA and Save & Restore received newest Sybase update as well

TCPORT process port to Linux – Complete

Central Processes port to Linux finished

MI-30 Collimator Controls Installation & Test
Assorted Linac Controls Upgrades

VME node 0602 Timer & Beam Inhibit Upgrade
Low Energy RF ON Trigger Reconfiguration
Linac Tank 1 Collimator Controls

Booster RCC VME Node Scope Trigger Upgrades10/3/07 Recover from Sitewide Power Outage
NuMI Decay Pipe RTDs
10/3/07 Recover from Sitewide Power Outage
Pi Poles - 345KV Transmission lines to MSS

Power Up 345 KV lines on 9/29/07 into MSS yard only.
Scheduled site outage/MSS energizing on 10/3/07

Casey's Pond

OPERATING on the 400HP PUMPS [still flowing thru 14 inch strainer].
C-4 ICW Pumps on standby.
ICW FLOW METER WIP. Expected transfer back to the 16 inch strainer on Mon 10/01/07.
New ICW liquid Bromine injection treatment started this week.

CUB SHUTDOWN 9/22 & 23

FDR 42 – Servicing 13.8KV switches from Giese Rd to CUB was completed. A major finding was the infiltration of sand from the building painting preparation into the switch housings. This led us to the re-inspection of Booster E/W switches that required cleaning.
Servicing 13.8kv/4160v – 480v unit sub-stations/transformers for CUB. No findings.
Servicing electrical 480/120v panels/switches inside CUB. No major findings.
DDC work – control wiring/upgrades/system checks. No major findings. PBar pump valve control actuators were installed for improved LCW pump start ups.
Cooling tower sump/tank check. Very clean.
PBar S/T heat exchanger [HE-8] is at end of life. Eddy current testing shows up to 30% of its tubes are over/at/near the 50% thickness factor [15 leaking tubes were plugged]. This is the back-up exchanger for the P/F HE-9.
Sunday start up on time [5:00PM].

CRAFT SD STATUS

Shift Work to Resume starting 12:01 AM Monday 10/01/07.
Electrical craft work backlog remains high.
Most of the Mechanical work is completed.
HVAC is completed.
FINDINGS – can review at the last meeting.

Tevatron Silt and Extension Collars

All Suction screen extensions [21] are installed and all of the screen cleaning/maintenance is completed.
Two Pond Pump Intake valves [A-2 & D-1] were replaced.

OTHER WORK

CUB – 55LCW PUMP REPLACEMENTS WIP. LP 4 is completed & on line. LP5 is installed & will be commissioned by end of next week. Will require a 55 LCW short shutdown/pump switch to finalize project.
TENTATIVE SITE ICW FLUSH SCHEDULED TO START Mon 10/01/07 THRU 10/07/07.
ZEBRA MUSSEL TREATMENT SCHEDULED FOR MID-OCTOBER.
Wilson Hall FIRE PUMP RUN [ICW] test to be scheduled by end of October to satisfy DOE requirements.
Safety
Safety System Status

Upgrade M02 - M05 Enclosure Interlocks 90%
Upgrade M01 Enclosure Interlocks 100%
Upgrade Main Injector PLC Code and replace PLC Batteries 100%
Replace Pbar Vault Key Tree Door Latches & add status LEDs 100%
Upgrade Meson Area Oxygen Monitors 10%
Replace Safety System DEC talk with ATT Natural Voices 30%
Modify Linac Enclosure Interlocks 100%
Linux kernal 2.4 to 2.6 upgrade to Safety Data Acquisition System 100%
Route Key Tree release signals from MCR to Meson 100%
Install Radiation Monitor Cables for the Muon Test Area 100%
Replace oxygen monitor cells in the Tevatron 100%

Radiation Exposure

~1.4 rem total dose for the seventh week of the shutdown.
~7.4 rem accumulated dose for the shutdown.

Startup

NTF Safety System testing completed 9/27
Linac Safety System testing completed 9/27
Booster Safety System testing tentatively scheduled for 10/1
8 GeV Line Safety System testing tentatively scheduled for 10/1

A successful shutdown is getting our work done safely
---
More Information
For Tevatron luminosity charts and the current status of Fermilab's accelerators and detectors (live!), please go to Fermilab Now.
Comments and Suggestions
What do you think about the Accelerator Updates? Please send comments and suggestions to: accelupdates@fnal.gov.