Fermilab Shutdown Report
9/7/07 – 9/14/07
Things Done This Week
Started installation of next LLRF VXI chassis on LRF3
Repaired Modulator Voltage Readback issue on LRF3
Installed Linac Filament Inductor motor and controller for use in manual control mode on LRF4
Continued NTF treatment on schedule
Will switch from I- to H- today
NTF Treatment scheduled for Monday, Sept. 17 th
Finish VXI Installation on LRF3
Test new Linac Filament Inductor motor and controller in auto control regulation on LRF4
Clean dome and refurbish source on I-
Install new vacuum pump on I- Source
Fix H.E. Linac Debuncher Water skid issue with temperature regulation
10 day Linac shutdown starts on Tuesday, Sept. 18th
After success of 9" line cavity coupler loop tuning on LRF3, we will repeat the procedure on LRF5 to reduce reverse during beam time. This will start on Tuesday, require beam pulses to verify beam loading / reverse power that night if all goes well, then return shielding blocks on Wednesday.
Start and Finish LLRF VXI Installation on LRF1 & LRF2
Install Co-axial cables needed for LLRF Controls
Install controls electronics in L.E. Linac
Water work:
LCW water work in the Booster West Gallery

Final water connections from the header to the various systems are complete
BRF17 and BRF18 manifold re-work will finish today

A final walk thru inspection with experts and interested parties will be arranged today before filling the system

Next week: Fill up the system and perform hydrostatic tests

CUB

Booster de-oxy skid is finished and the 95LCW water has been flowing through the system.
95LCW pump upgrade is complete and operational.

Corrector installation

Number of new correctors in the tunnel: 11

L19, L17, L21, L23, L15, L9, L11, L13, L5, L7, & L1
A comprehensive plan has been worked out and adopted for the corrector installation at L3

One of the most challenging location for installation
Requires disassemble of some 400MeV components
Requires replacement of a dog leg magnet
Requires further shielding surrounding the area
Requires elaborate mechanical design

Dry run transporting the dogleg through tight clearances
Dismantling 400MeV components begin today!

Next week

Protective screen added to the corrector power supplies
Next week: Energize the correctors at low current, one at a time, for field measurements
Additional Activities

BET sinkhole has been repaired
Water leak developed in the BWT parking lot

FESS determined the leak comes from a ICW line from CUB

RF maintenance progressing well
Q800 replacement will proceed next week
Mechanical
Leak Check (4)

AP3 to be done
Finished checking D/A, A40, A30

D:ISEP Shielding
Ion Chamber removal
Deb DCCT motorized stand
D:EKIK ceramic tube

New tube on stand; ready for alignment

AP2 Water Hose Replacement
Leaking LQA
Replaced leaking Deb Sextuple
SMA water leak
4 water leaks to fix
A10 Obstruction Search

Opened; components to shuffle
Target Station
Water Systems (2)
Temperature Monitoring (2)
Target Rotation
Storage
SEM Module
LVDTs
Sample Retrieval
Lens motion
Air Exhaust Stack
10mm-2 into transformer
10mm-3 into transformer
Lens replacement
Cryo
Valve Stem replace
Leak Check (1 of 2)
LN2 transfer line maintenance
Cooling Systems
Deb 3&4 Trans Notch Filters
Deb Double Notch Filters
Core 4-8GHz Equalizer
TWT balance & trip points

Cryo cold; testing 25% complete

Stacktail Filter 3 cable change

Cryo cold; Finished testing
Electrical (Pbar & EE Support)
Shunt Move
Shunt Repairs (6)
PS Maintenance
Lens SCRs
Regulation Electronics
Ion Pump maintenance
Deb Shunt re-arrangement
Deb Extraction kicker load adjustment
Other
Interlocks/Safety System (3)
Repair cathodic protection
Holes under buildings

Water dripping from tunnel ceiling

DCCT calibration
Baking System checkout
RF & TWT filters maintenance
Lights Checkout

Fluorescents done
Emergency & Exit lights

Acc BPM repairs
Activation Survey
Inductance checkout
PM ODH Fans & Sumps
Tunnel Wireless
Install AP2 Leak Detector
SEM maintenance
Clogged sump line – Transport

Berm dug; Replaced entire line
8 GeV line:

Replaced 3 vacuum valve solenoids
Installed multiwire
Leak checked

LEP Corrector coil replacement:
MI40 Lambertson beampipe replacement:

Setting up for replacement of both upstream and downstream beam pipes

Leak checking:
Wet magnets from C0:

5 magnets Shipped to IB2 for drying

MI10 kicker installation

Kicker installed
IPM needs repair

MI30 collimators

Making vacuum connections
Continuing buss and LCW moves

General Startup Plan

Turn on to pre-shutdown conditions.

Slip stacked beam to Pbar target
2+5 mode for NuMI and Mixed mode
Use the old damper system
Use the pre-shutdown TLG modules

2.2s cycle spacing
We would like to switch to multibatch slip stacking in 2 weeks

Need new TLG modules and commissioning activities must be complete

Measurements requiring dedicated time

MI8 line lattice measurements and matching (2 x 4 hrs.).
Aperture scans at MI30 (2 hrs. + problems)
Quad moves??? (8 hrs.)
Coalescing tune up (4 hrs.)
Slip Stacking tune up. (2 hrs.)
Tune up extraction positions and abort line (4 hrs.)

"Parasitic" Measurements

Commission new damper.
Collimator commissioning (MI8 and MI30).
Ring aperture scans with new software program.
General tune up

MI Status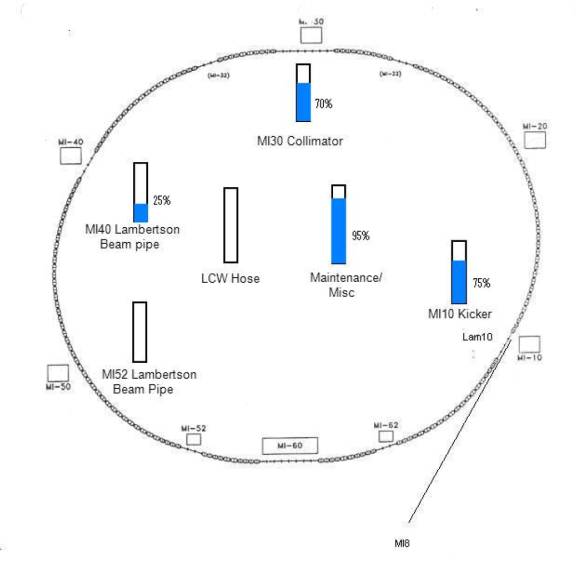 Finished or underway

New DCCT section installed, leak checked and under vacuum since Wednesday last week; pumping down

DCCT section has been aligned
This section will be baked

V303 moved
H308 moved
Need to check ALL LEP dipole positioning wrt. Beampipe
STC tank 7 leak check finished

Second attempt has been made; detected air but found no external leak

Sublimated TSPs at STCs 7,8,9,10.11,12

Trombone additional quadrupoles installation issues

HLRF cooperation
Installation has been completed

Added support to old DCCT
Bulk supply upgrade (on-going)
DCCT cable connected
Stochastic cooling: Photodiodes aligned
Leak check for the 800 transfer line: two leaks have been found so far

MW803 seal has been replaced; leak fixed!

MW803 survey requested and has been done

HP803 (large elliptical BPM) will be replaced with a standard elliptical unit

Leak check for replacement unit in progress
Survey of as-found has been done between gradient magnets

Measured rough positions of trombone elements with respect to surveyed elements

Rough Measurements of trim quads and LEP dipoles in the trombone section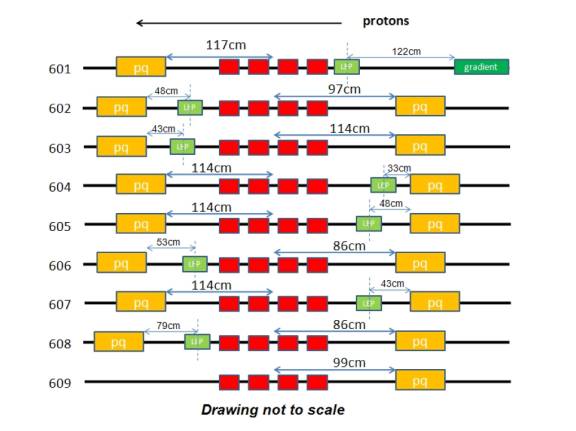 Pelletron Status

Closed on Aug. 31 st

All maintenance finished except water

Replace filter and take water sample later on

Made access on Sept. 4 th to retrieve blue man-lift
U-bend mode running on Aug. 31 st

Very little gas activity (i.e. conditioning)

Although lost current was high at first

Appears to be back to nominal on Tuesday (Sept. 4)

Charging circuitry back to nominal (7.3 mA/kV)
Very good electric strength

Achieved 5 MV with only two vacuum bursts

Regulation loop parameters needed to be adjusted (new needles)

Will have to resave nominal file (for the full line) at start up

Got pulsing beam (full amplitude) to the collector with minimal tuning of a few correctors
Data taking with OTR started on August 31 st, in the afternoon

Camera timing was verified and the first pictures were acquired

Ran a good portion of the day on September 4 th
Issues:

We missed (during check out) what appears to be a broken resistor on the gun resistor chain

Only impact should be a lower resolution for BIASI
We won't open the tank to fix it

Wait for a natural occurrence

One non-working BPM channel

Will be worked on today (September 5 th)

E50 is not working

Continue taking data with OTR

Intermittent data taking until we can go in the tunnel for YAG measurements

Primary goal (Arden): Polish data acquisition software and timing of the camera in preparation for YAG measurements

Secondary goal (Arden, Sasha, Lionel): Optics measurements, pepper-pot measurements (i.e. understand the drop of intensity seen on pepper-pot images)

Maybes (Lionel, Sasha): Check gun performance and calibration of the Gun CT

Recycler to do list

Magnet moves and survey /alignment pending calculations
Elevation survey after collimator installation
Electrical connection for new quadrupoles
Field check for new quadrupoles
LEP dipole field centering on beampipes
Vacuum maintenance
Kicker repair; timing verification
TOR330 repair
BPM calibration
Diagnostics maintenance
Laser link vacuum maintenance
Vacuum Issues

C4 very small leak some where can live with
D1 certified OK
E12-3 found leak had to pull magnet into isle to fix. Also possible bad spool at E12-1
A1 warmed up will look for leak after E1
D3 He to air leak
C0 upgrade issues with heater in MI magnets

Tevatron status as of September 14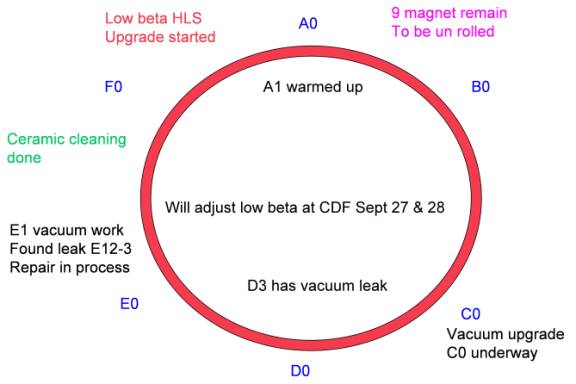 Continuing with maintenance work
Complete HV101-1 magnet change out
Start installation of new Horn 2 RAW pressure gauges
Horn 2 RAW water leak repair

Develop repair procedures and ALARA plans
Working on upgrade to suction line ceramic

Develop plan to fill decay pipe with helium

Matt Cooper to lead engineering & procurement effort for helium filling system
ODH analysis for underground areas continues
Development of NuMI Note for changes Decay Pipe continues
Start installation of helium pipe to Absorber Hall starts Monday

Installed SWIC in muon alcove racks at Absorber Hall
Started PLC work on absorber skid
Target Pile Dehumidification Installation Project (40%)

Completed installation of chilled water piping & electrical conduit upper labyrinth
Completed installation of chilled water pipe & electrical conduit in T-Hall
Chilled water piping insulation completed in Target Hall
Completed electrical tie-ins to electrical panels for new installation during yesterdays power outage
Started construction dehumidifier deck east of work cell
Received chilled water strainer and condensate tank skid w/pumps
No work was completed this last week.
Reverse Horn Polarity (week of September 17)

Tale wipes
Reverse polarity of horn power supply
Test horn

Check Corrosion Tabs at 25m Absorber (27/28Aug07)
Change water DI Bottle (50%)
Dry out horn (09Aug07)
Check Leakage Current on Ion Pumps
Power Supply Maintenance
Toroid Work
MuCool Beamline Installation
Electrical Work (behind schedule)

Cable pull ongoing

All load cables have been pulled

EE support terminated the 4C#8 cable

Ongoing progress with instrumentation cables

~ 9,000 ft of heliax cable pulled (90%)

Contractors will be working OT this weekend to finish up the cable pull
Next week:

Finish up contractor work (terminate 350/500MCM cables)
Instrumentation group, EE support, vacuum group will start terminating their cables

Mechanical Installation

N 2 line has been extended to fulfill MTA needs

Alignment

Alignment (behind schedule)

Network validation took longer than expected

Crew worked in Linac this week to collect more data

Network has been completed

EOI was sent to AMG regarding OT this weekend for MTA

Currently pending resolution

Next week: Rough alignment beam line until finished

Align the beam pipe sleeve

LCW work

Pipe fitters will be done today
Next week: Hydrostatic pressure test

Start making water connections to the magnets (?)

Vacuum work (behind schedule)

Waiting on alignment to proceed with spool piece connections
Next week: Installation of spool pieces as soon as possible

Proton Source start-up day: October 3 rd

MTA beam line installation has 10 days left!
There is a considerable amount of work remaining in order to reach the project goal
A reevaluation of the project goals is ongoing together with a revised schedule
Silicon cooling leak repair

Both sides are leak tight enough to run

East leak rate reduced >1000
West a factor of a couple worse

Inspection of other cooling lines found no additional damage

All corrosion found was in the heat affected zones where cooling tubes are welded to manifold
Expect work to continue into next week

Close plug Thurs. or the following Mon. (9/24)

Detector survey 9/25
LBQ alignment 9/26-27
Other work ongoing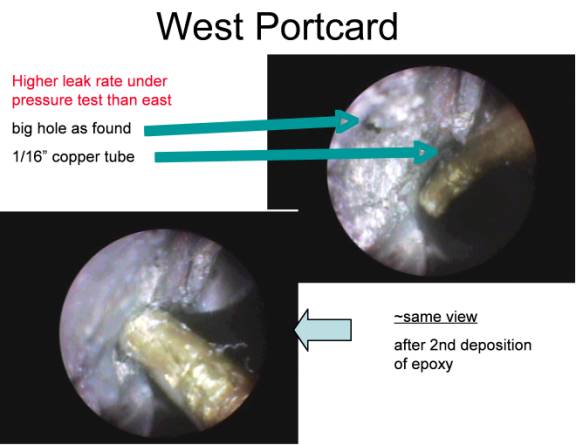 Work continues
Alignment
Completed Jobs
Recycler Task Manager: Oshinowo

5527 Optically align Recycler DCCT after installation. Date: 8/13/2007 Complete

Tevatron Task Manager: Bocean

5494 As found low beta quads and separators at B0 Date: 8/06/2007- 8/08/2007 Complete
5495 As found low beta quads and separators at D0. Date: 8/09/2007- 8/14/2007 Complete
5498 Measure rolls on 111 dipoles and quads in Tevatron (100 +) Complete
5501 Un roll D16-1 quad when D-1 is warmed.(As Found) Date: 8/13/2007 Complete
5591 As Founds of the Roman pots at D0 4 of 6 Date: 8/13/2007 85% Complete
5598 A0 dump as found (no request for this job) Date: 8/23/2007 Complete
5594 As found Schottkies, Separators and Beam pipe at A17 s Date: 8/24/2007 Complete
5572 As found and re survey kicker replacement at F-17. Date: 8/28/2007 Complete
5506 As found crystal collimator at E0. Date: 8/28/2007 Complete
5506 level run through Tevatron tie rods. Date: 8/29/2007 Complete
As found TEL2 in transfer hall. Date: 9/18/2007 Complete
5599 As found E 12-2 12-3 and 12-4 in preparation to pull E 12-3

Booster Task Manager: Oshinowo

5534 Align 24 Booster Corrector Magnets.( Long 19 Long 17 ) Date: 8/13/2007 Complete
5534 Align 24 Booster Corrector Magnets ( Long 21 Long 23 ) Date: 8/14/2007 Complete
5534 Align 24 Booster Corrector Magnets ( Long13 Long15 ) Date: 8/20/2007 Complete
5534 Align 24 Booster Corrector Magnets ( Long 11 Long 9 ) Date: 8/21/2007 Complete
5534 Align 24 Booster Corrector Magnets ( Long 7 Long 5 ) Date: 8/23/2007 Complete
5534 Align 24 Booster Corrector Magnets ( Long 1 ) Date: 8/30/2007 Complete

Main Injector Task Manager: Oshinowo

5563 AS found survey of Quadrupoles at 400, 402, 404 and the three Lambertson. Date: 8/13/2007- 8/15/2007 Complete
5554 307, 308 Collimators: Base plate survey Date: 8/16/2007 Complete
5554 307, 308 Collimators: Set travel and limit switches Date: 8/22/2007 Complete
5596 Magnet 614 had to be moved please realign. Date: 8/23/2007 Complete
5562 The beam pipe on the downstream side of the MI40 Lambertson. Date 8/29/2007 Complete

NuMI Task Manager: Bocean

5602 As found the currently existing HV101-1 (spare EDBB017) dipole before replacement at MI-60. Date: 9/11/2007 Complete

CMS Task Manager: Oshinowo

5516 Survey the CMS F-pixel Half cylinder +Z2 in the Lab C Date: 8/09/2007 Complete
5518 Survey the CMS F-pixel Half cylinder +Z2 in the Lab C Date: 9/06/2007 Complete

D0 Task Manager: Oshinowo

Stickmike survey of Muon system prior to opening of detector. This will include both CFs and EFs. Date: 8/06/2007 Complete
5524 VStar or Laser Tracker survey of North/South EF pedestals with respect to the sidewalk monuments. Date: 8/07/2007 Complete
5592 Elevation run in D0 before machine is opened. Date: 8/06/2007 Complete

P150 Task Manager: Oshinowo Late Request

5593 We had to move several magnets and multiwires to make up the ends on the cans for vacuum connections. They are as follows: The multiwire cans at 708 and 710. B2 magnets at the interface of 710 - 711 and the interfaces of 709 - 710, the serial #'s are BDM 883-1 BDM 835-1 BDM 879-1 and BDM 397-1. Date: 9/07/2007 Complete

Linac Task Manager: Oshinowo

5468 Stake out the MuCool beamline component locations in the Linac and MuCool Test Area (MTA). Date: 8/08/2007 Complete

P-Bar Task Manager: Oshinowo

5488 As Found A4Q10 (LQA in Accumulator) has a water leak. Date: 8/09/2007 Complete
5595 As Found An Accumulator multipole magnet has developed an leak. Date: 8/30/2007 Complete
5488 Alignment A4Q10 (LQA in Accumulator) has a water leak. Date: 8/30/2007 Complete
5595 Alignment An Accumulator multipole magnet has developed an leak. Date: 9/04/2007 Complete
5540 The Debuncher DCCT (located between D1Q2 and D1Q3). Date: 9/12/2007 Complete

Nova Task Manager: Oshinowo

5475- Stake out new Recycler injection line (MI10) Date: 8/27/2007 Complete

MTA Task Manager: Oshinowo

5469 Vertical check of the MuCool beam line components. Date: 8/29/2007 Complete
Shoot MTA shielding blocks after re-stacking. Date: 9/04/2007 Complete
Next week's schedule of work
Tevatron Task Manager: Bocean

5499 Measure and re align 29 dipoles and quads that have new stands. Date: 9/04/2007- 9/07/2007
As found TEL1 in transfer hall. Date: 9/17/2007
5603 As found and set new spool at E 12-1. Job must be done sometime this weekend

Elevation Run Floor points Manager: Kyle

5528 Ring Wide elevation survey Date: 9/17/2007

Booster Task Manager: Oshinowo

5534 Align 24 Booster Corrector Magnets Date: 9/04/2007

Main Injector Task Manager: Oshinowo

5554 4 collimators in the Main Injector at the 301, 303, 307, and 308 locations. Date: 9/04/2007-9/07/2007

Nova Task Manager: Oshinowo

5477-Stake out new Recycler RR30 quad positions for the Nova Project Date: 9/20/2007
5476-Stake out new Recycler extraction line (MI30) for the Nova Project Accelerator upgrade Date: 9/20/2007

P-Bar Task Manager: Oshinowo

5541 A new three-piece ceramic tube for the Debuncher Extraction Kicker (located between D6Q10 and D6Q9) will be installed. Want to assure the maximum alignment aperture is retained from production in Technical Division IB2 to installation on the stand (may have to take into account deflection of stand with/without kicker modules. Date: 9/14/2007

MTA Task Manager: Oshinowo

5469 Rough alignment of the MuCool beam line components. Date: 9/15/2007 - 9/19/2007
5538 Possibility to survey few 400MeV component(s) (2 quads?). There is a possibility that one has to remove temporary some 400MeV element(s) to make room for hauling the new Booster Corrector package. If that is the case, one needs to survey the components

CMS Task Manager: Oshinowo
CDF Task Manager: Greenwood

5450 Measure elevation of CDF central detector Elevation Run. Date: 9/25/2007

NuMI Task Manager: Bocean

5602 Align the HV101-1 magnet (the initial dipole EDBB020) after re-installation at MI-60. Date: 9/15/2007

ILC Task Manager: Bocean Not Scheduled
Alignment and Metrology Home page
Mechanical
Work in the tunnels continues.
Tevatron at LN2 temperature except A1 and E1 at room temperature
C4 and D1 were cooled down to LN2 temperature; no vacuum problems indicated
Pbar Debuncher Stochastic tanks and S/C Notch Filter Dewar are at LHe temperature
Tunnel magnet cryostat vacuums at A25 and D35 regions are of concern; D35 safety lead helium-atm leak was fixed by MSD/Cryo
3 FRIG Mycom compressors (plus CDF & DZero) running with helium precooled to LN2 temperature flowing through magnet strings
Helium and Nitrogen Operations
CHL helium inventory management system operating on clean Helium Tank Farm, though A0 GHe Recovery being vented due to CHL Main Helium Purifier being offline while Screw compressors on Mobile Helium Purifier
CHL Nitrogen Reliquefier plant off and LN2 supply dependent on vendor deliveries to CHL LN2 Dewar tanks; deliveries are fine
FRIG Maintenance
13 of 13 wet expander flywheels have been replaced.
21 of 26 wet/dry expander overhauls of cold ends are completed
Various vacuum, instrumentation, and controls maintenance continuing.
Mycom compressor startup checkout in progress
CHL Maintenance
Coldbox-1:

Charcoal Adsorber west unit regeneration at high temperature almost finished
Oil Skid test run fine.

Nitrogen Reliquefier plant maintenance in progress:

R22 precooler skid compressor being inspected
TSI Compr 3000 hp motor replaced but bearing oil leak problems being addressed

Various compressors and facility maintenance in progress
Controls
This Week
Console Node OS Upgrades– Complete
States process port to Linux – Complete
Installation of 6 Booster VME Nodes with HRMs – Complete
NuMI AAT PLC Upgrade – In Progress
Linac Tank 1 Collimator Controls Upgrade – In Progress
MI-30 Collimator Controls Installation – In Progress
MADC II Updates continues
Routine maintenance continues
Next Week
9/18/07

Database Disk Array Firmware Patch Installations

9/19/07

Unix Webserver Maintenance

9/20/07

Save/Restore and SDA Database Updates
Other Upcoming Disruptions
9/27/07

Application and Device Database Updates
Sink Holes
BTE – SUMP DISCHARGE LINE REPAIR COMPLETED.
AP-0/AP40 – SUMP DISCHARGE LINE BREAK REPAIR COMPLETED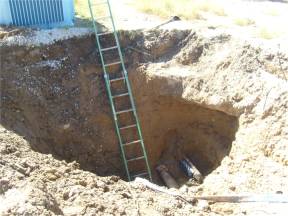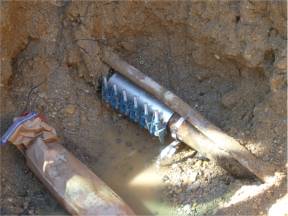 Casey's Pond
NOW OPERATING On the 400HP PUMPS [flowing thru 14 inch strainer].
C-4 ICW Pumps not in operation unless required
ICW FLOW METER WIP. Expected completion/transfer back to the 16 inch strainer by/before 9/28/07
Poles
ALL of the19 poles are installed with conductors attached
Project completion is ahead of schedule
Power Up on 9/29/07 into MSS yard prior to site outage/MSS energizing on 10/3/07
TeV pond silt
ALL SECTORS COMPLETED FOR SILT TRANSFER.
SUCTION SCREEN EXTENSION FOR PO/INSTALLATION WIP [19 REQUIRED]. CRITICAL INSTALLATION AREAS TO BE COMPLETED BEFORE START UP
Other Jobs
CUB – 55LCW PUMP REPLACEMENTS WIP
TENTATIVE SITE ICW FLUSH SCHEDULED TO START SAT 9/29/07 THRU 10/06/07
ZEBRA MUSSEL TREATMENT SCHEDULED FOR MID-OCTOBER
Safety
Safety System Status

Upgrade M02 - M05 Enclosure Interlocks 65%
Upgrade M01 Enclosure Interlocks 10%
Upgrade Main Injector PLC Code and replace PLC Batteries 35%
Replace Safety System DEC talk with ATT Natural Voices 30%
Upgrade Meson Area Oxygen Monitors 0%
Replace Pbar Vault Key Tree Door Latches & add status LEDs 0%
Linux kernal 2.4 to 2.6 upgrade to Safety Data Acquisition System 100%
Route Key Tree release signals from MCR to Meson 100%
Install Radiation Monitor Cables for the Muon Test Area 100%
Replace oxygen monitor cells in the Tevatron 100%

A successful shutdown is getting our work done safely
Meson Oil Switch Replacement
MP Oil Switch

9/24/07 @ 0700 – MW9 off 30 minutes to connect generator.
9/25/07 @ 1600 – MW9 off 30 minutes to disconnect generator
9/26/07 @ 0700 – MP9, MS7,PK120 off 30 minutes to connect generator
9/26/07 – 10/5/07 – Running on Generator
10/5/07 @ 1600 – MP9, MS7, PK120 off 30 minutes to disconnect generator

MXW Oil Switch

10/8/07 @ 0700 – MAB & MS6 off 30 minutes to connect generator
10/8/07 – 10/19/07 – Running on Generator
10/19/07 @ 1600 – MAB & MS6 off 30 minutes to disconnect generator

MDE Oil Switch

10/22/07 @ 0700 – Meson Detector Building (MDE) East off 30 minutes to connect generator. (MDW, MCC, LLRW have 5 minute outage)
10/22/07 – 11/2/07 – Running on Generator
11/02/07 @ 1600 – MDE off 30 minutes to disconnect generator. (MDW has a 5 minute outage)
11/5/07 @ 0700 – Meson Cryo Central and Low Level Rad Waster (MCC&LLRW) have a 5 minute outage
11/7/07 @ 0700 – LLRW has a 5 minute outage
11/8/07 @ 1600 – LLRW has a 5 minute outage
---
More Information
For Tevatron luminosity charts and the current status of Fermilab's accelerators and detectors (live!), please go to Fermilab Now.
Comments and Suggestions
What do you think about the Accelerator Updates? Please send comments and suggestions to: accelupdates@fnal.gov.